I'm honored to be co-hosting the Moms Reading Facebook chat this Wednesday with Laura of Mommy Miracles!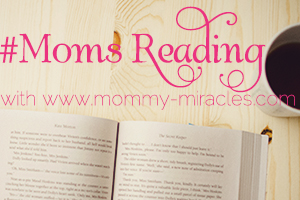 I chose this month's book, The Fault in Our Stars
 by John Green, after hearing excellent reviews of it by friends.
And for good reason…it really is an excellent book. I don't have a lot of time to dedicate to reading as it is, but I positively flew through this one.
It's written by John Green as Hazel, a 16 year old girl battling cancer. I fell in love with Hazel immediately, as a quirky, intelligent, still-innocent teenager. She's not typical in any way, and I appreciated that about her. Even her thyroid cancer was held off by a "miracle treatment", which bought her several more years, though she has to drag round the oxygen tank that keeps her breathing.
Her mother is literally obsessed with Hazel, always close by, never more than a small yell from running to her. Her father will do anything for her.
A lot of her "social life" is spent at Cancer Kid Support Group (that she's forced to attend), where she eventually meets Augustus, a seemingly normal teenage guy and former hot shot basketball player. It turns out, though, that he has his own cancer history and is an amputee. The two become inseparable, and Hazel shares the book that she keeps a secret, close to her heart: An Imperial Affliction. The book, about another young cancer patient, is one that she has read over and over again, and the two bond over it. It doesn't have a real ending however, and the two use a "Wish" that Augustus has been hoarding to visit Amsterdam and the book's author for some answers.
The book is incredible and devastating. It's a quick read, but an emotionally draining and satisfying one. I definitely give it five stars/hearts (out of five).
Come join Laura and myself Wednesday evening, Feb 26th at 9pm Eastern on the Moms Reading Facebook page for a discussion about the book.
The book for the March discussion will be The Book Thief
.
.

And, Laura will be giving away a copy of April's choice, Where'd You Go, Bernadette: A Novel
. Link up below with either a blog or Goodreads review of The Fault in Our Stars for an entry, and watch the hashtag #momsreading on Instagram for an upcoming chance for entries. Be sure and like the Moms Reading Facebook page for news and announcements!
Links are affiliate links.